As seen in the
Source link
, written by
designboom.com
on 2020-08-01 05:30:11
london-based design studio priestmangoode has unveiled their vision of tomorrow's air travel. dubbed pure skies, the design concept addresses consumer, business and environmental concerns for both business and economy class cabins. the new built-in design features the latest technology and material innovation that aim to help reduce passenger anxiety, improve personal space and hygiene, and facilitate touch-free journeys.
'this latest work from the studio represents pragmatic innovation,' comments nigel goode, co-founding director at priestmangoode. 'with the benefit of over 30 years' experience, we know how to harness design to achieve long-term positive change. we've looked ahead to imagine future scenarios and taken into account new passenger behaviors driven by the global pandemic to ensure our designs can be implemented within a few years and will meet user and airline requirements for many years ahead.'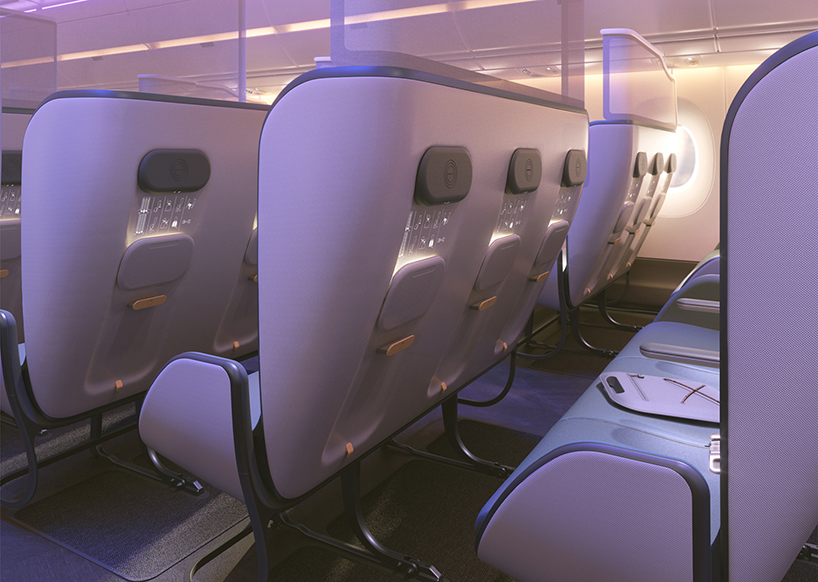 pure skies by priestmangoode is the result of close collaboration between designers from across of each of the firm's areas of expertise — from product design and innovation, to future strategy, CMF (color, material and finish) and visualization. the three key points were personal space, hygiene and touch-free journeys, together with sustainability. color psychology also played and important role in the selection of colors and materials, where they were used to help communicate with passengers and create a sense of calm and security onboard the aircraft.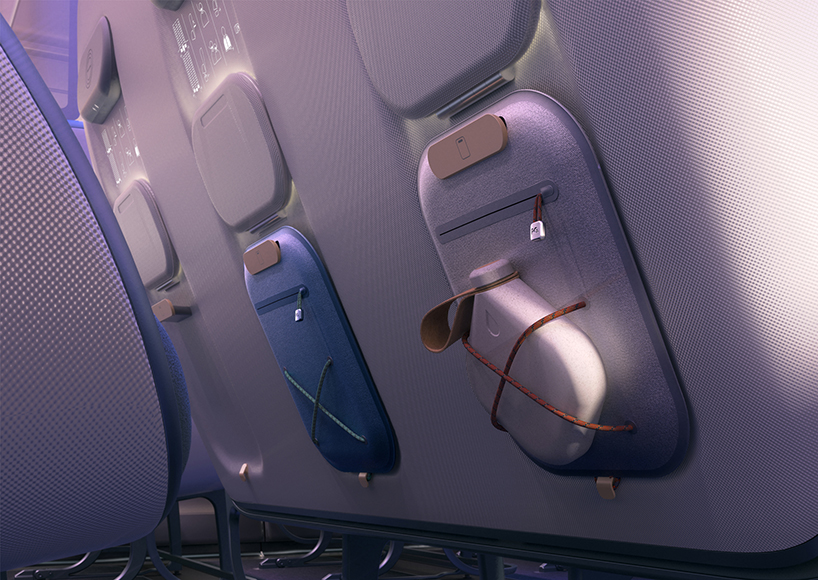 pure skies moves away from the notions of 'class' and instead of calling the airplane's classes business and economies, it takes a step back and names them rooms and zones. the pure skies rooms (previously business class) feature a fully-enclosed personal space, partitioned by full height curtains. the brand-new seat design has been built with antimicrobial materials and finishes and features personal lighting and temperature control. as for the pure skies zones, or what was previously known as economy class, the firm has used dividing screens every other row for greater separation and the staggered seat configuration maximizes the feeling of personal space.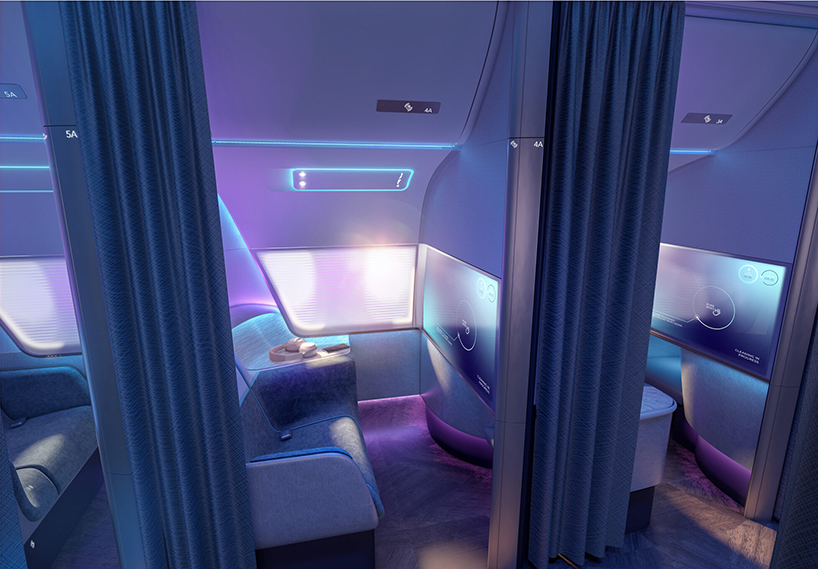 'with both passengers and airline employees at the heart of this project, we have not only taken onboard present anxieties but also tried to ensure our solutions are future-proofed against future pandemics, recognizing the significant commitment and investment involved,' concludes nigel goode. 'we also acknowledge that rules and perceptions are continually changing. we firmly believe that by building-in additional safeguards and designing-out areas that previously caused concern, our pure skies concept encompasses a range of innovative and relevant options that will appeal to airlines for different reasons depending on their customer profile, location and fleet. however, planning must start today for these solutions to be ready and in place for when volumes undoubtedly return in the industry.'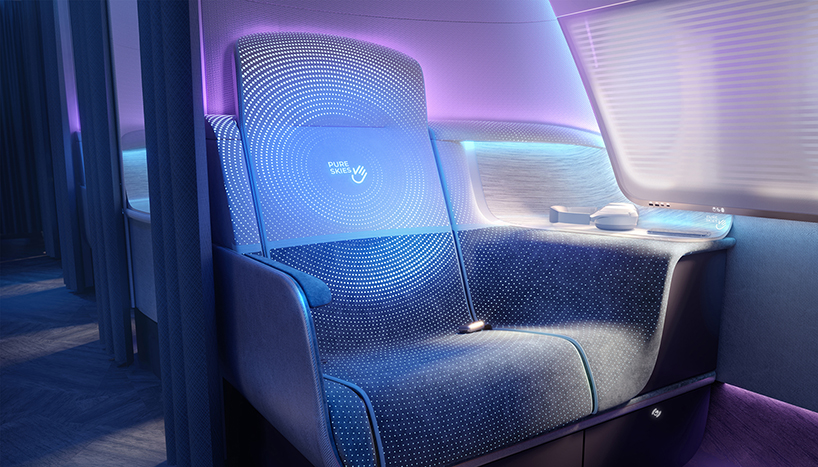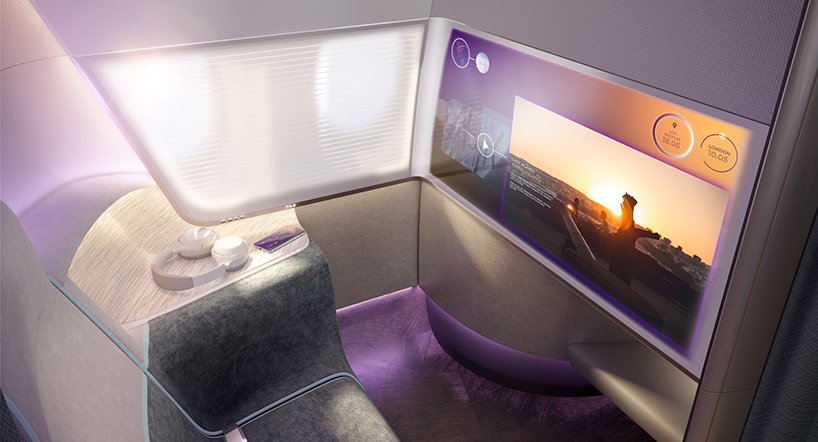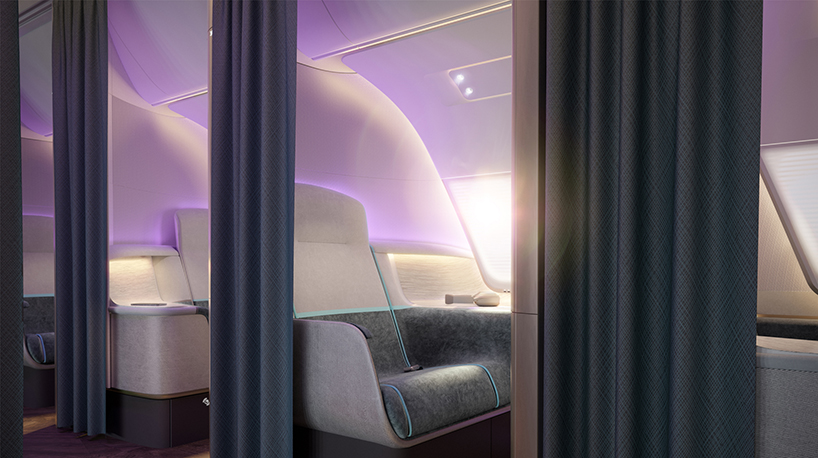 project info:
name: pure skies
designed by: priestmangoode
type: airplane cabin design
juliana neira I designboom
jul 31, 2020